---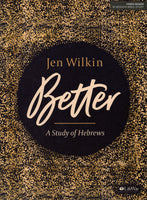 Study the Book of Hebrews verse by verse with Jen Wilkin. Through the New Testament letter, learn how Christ is the substance of the shadowy truths the Old Testament records. Discover how He fulfills and completes the work of Angels, prophets, priests, and ceremonial laws, establishing a better covenant. 
Written to those tempted to return to the familiar paths of dead ritual, Hebrews calls us to fix our gaze instead on the resurrected Christ as we run the race set before us. In Him alone we have hope and salvation. He alone is the radiance of the glory of God. In Him alone we have access to God the Father. He alone is better.

In this 10-session video-based Bible study, you will: 
• Explore how the entirety of Scripture points to Jesus Christ.
• Discover the hope of the new covenant in Christ.
• Discover how to study the Bible verse by verse, growing in your understanding of who Christ is. 
191 pages
Lifeway