---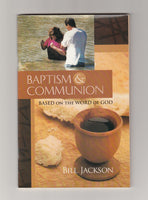 Baptism & Communion... how important are they? What do they really mean? Why do churches have differing ideas about these two practices?
Bill Jackson, a widely-traveled and experienced minister among North American Native peoples, addresses these concerns in this booklet.
It was the Lord Jesus Christ who first taught baptism and communion, and gave them as blessings to His people. But these practices have been both greatly misunderstood and misused.
Bill takes us back to God's Word to discover Jesus' original intent, then shows how His good intentions can be fulfilled in our lives today as we practice baptism and communion as they were meant to be.
46 Page Booklet
Northern Canada Mission Distributors