---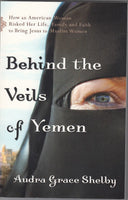 When Audra Grace Shelby and her husband felt God calling them to minister in the Middle East, she was fearful--how would she raise her children in the heart of conservative Islam?

Armed with prayers and a faith that always seemed too small, the family made the move to Yemen, enduring deadly illness, uncertainty, and the unnerving experience of being Christians in an Islamic culture.

Yet God was at work, and Audra was invited to see what few Christian women have seen: behind the veils of Muslim women. Here she shares about the friendships she forged, about the opportunities to minister when her new friends' hopes shriveled and their own religion faltered--and how the grace of God touched lives in the midst of an enemy stronghold. With humor, passion, and honesty, she shows readers glimpses of life deep in the heart of Islam and the yearning heart of our loving God.
240 pages
Chosen; A Division of Baker Publishing Group