---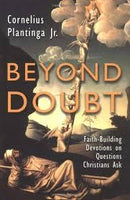 Sale
From the pen of award-winning author Cornelius Plantinga Jr. comes this book of flesh-and-blood Christian meditations with a theological spine.


Building on the success of two earlier editions and now splendidly updated, Beyond Doubt unpacks the deep truths of the Christian faith by raising basic questions like What is God like? Why pray? What is the shape of the godly life? If the Lord is with us, why do we suffer? How do we face death?
Plantinga addresses such questions through short, vivid meditations, all written in the graceful, polished prose that he is celebrated for. Thoughtful and challenging throughout, the meditations each start with a Bible verse and end with a brief edifying prayer.
335 pagesWm. B. Eerdmans Publishing Co.