---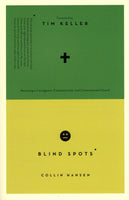 What if our differences became opportunities?
The world needs bold, united followers of Jesus. It needs you and me to understand and appreciate the contributions of our brothers and sisters in faith. However, too often, our blind spots lead to divisions and disagreements, preventing God's people from testifying to his grace with one voice.
In this provocative book, Collin Hansen helps us view our differences as opportunities to more effectively engage a needy world with the love of Christ. Highlighting the diversity of thought, experience, and personality that God has given to his people, Blind Spots lays the foundation for a new generation of Christians eager to cultivate a courageous, compassionate, and commissioned church.
128 pages
Crossway