---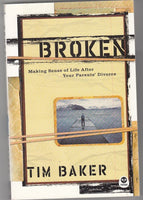 Sale
"We're getting a divorce...You'll be okay...we promise."
Those words change you forever. When your parents make that painful decision to split, you're filled with uncertainty, loneliness, anger, guilt, fear, rejection, and depression.
Broken explores one guy's intense journey through the heart of divorce. Using stories from his own life, award-winning author Tim Baker shares his desperate search for answers as he found himself reeling from the aftershocks of his parents' divorce. While there are no easy answers or formulas for dealing with the fallout of your parents' marriage, Time helps you discover the peace and hope found in yielding your broken self to your Ultimate father.
163 pages
THINK Books