---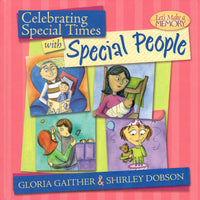 Make a Memory...And Make Your Family Strong

Modern families face increasing demands--from seemingly endless activities for kids to heavy requirements for working parents. More than ever, families need resources to strengthen their bonds with each other by creating and celebrating special memories. This book will draw families together while encouraging creativity, tradition, and appreciation of each other and God. Complete with heartwarming vignettes from well-known Christian personalities, this charming book includes a wealth of creative memorybuilding activities to share with the special people in your life, each matched with relevant Scripture. It's packed with potential for year-round fun!

Treasure the Ones You Love

Cherish the Memories You Make

People are the spice of life! From kids to grandparents, friends to neighbors--they all make life more fun and meaningful. Celebrating Special Times with Special People will help you bring your loved ones together in creative new ways throughout the year.

You'll find a host of delightful ideas to honor the graduate, spoil grandma and grandpa, welcome a new child, and bless the sick. Excuses for lavishing a little love on one another abound, and it's easy with a little help from the pros! Gloria Gaither and Shirley Dobson supply brilliant ideas; you transform them into memories you'll cherish for all time.

Story Behind the Book

"Through this book we hope to revitalize activities that give meaning to loving relationships. This book is designed to provide encouragement and resources to strengthen the bonds within families and special friends and give inspiration to make lasting memories a top priority. Families and friends today need resources to strengthen their relationships with each other by creating and celebrating special memories."
125 page book
Multnomah Gifts