---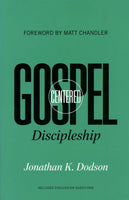 Reflecting on the practice of disciple making in young adult, college, graduate, and local church contexts, Jonathan Dodson has discerned some common pitfalls. For many, discipleship is reduced to a form of religious performance before God. For others, it devolves into spiritual license and a loose adherence to spiritual facts. Both approaches distort biblical motivations for Christian obedience and are in need of reform.
By explaining various motivations for discipleship, Dodson charts a biblically faithful, grace-driven alternative. Additionally, he provides a practical model for creating gospel-centered discipleship groups—small, reproducible, missional, gender-specific groups of believers that fight for faith together. This book blends both theology and practice to inspire and equip Christians to effectively fight sin, keep Jesus central, and make gospel-centered discipleship a way of life.
Both new and growing Christians will learn to trust the gospel in community as they fight together for holiness as well as how to start gospel-centered community groups in any local church.
176 page book
Crossway