---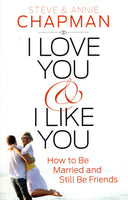 Sale
Do you want a healthy marriage that will thrive and grow? Enthusiastically and happily married for more than 38 years, award-winning musicians Steve and Annie Chapman offer you time-tested marriage advice based on their experiences, reading God's Word, conducting marriage seminars, and prayer. They believe that "no marriage is perfect, but all marriages can be successful." You can establish a great Christian marriage by implementing their key principles, including:
creating a positive atmosphere for intimacy
knowing what really makes your mate feel loved
improving your communication skills
working together to set priorities and goals
avoiding money problems by establishing boundaries
Whether you've been together for days or years, I Love You and I Like You offers biblical marriage advice that will help you have a happy marriage overflowing with love and romance.
176 pages
Harvest House Publishers