---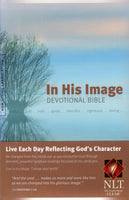 The
In His Image Devotional Bible
will help you know God more deeply as you discover His attributes and character throughout Scripture. You will become more like Christ as you practice directed, prayerful reading of God's Word. Experience greater peace facing life's challenges as you learn to see God fully.
The New Living Translation is an authoritative Bible translation, rendered faithfully into today's English from the ancient texts by 90 leading Bible scholars. The NLT's scholarship and clarity breathe life into even the most difficult-to-understand Bible passages—but even more powerful are stories of how people's lives are changing as the words speak directly to their hearts. That's why we call it "The Truth Made Clear."
Special Features
In His Image Readings — 270 Divine Attribute Prayers & 57 Response to God articles focus on God's attributes
God's Names & Titles — Clarification & application of the meaning of God's names
Character of God Articles — Studies give the big picture of God's character and what a relationship with him should look like
1568 page book
Tyndale House Publishers Inc.