---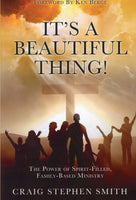 Author Craig Stephen Smith believes that strong families make strong churches, and he hopes to encourage that dynamic with this new book. Smith highlights some of the myriad of options available to families seeking to serve the Lord as a team, and encourages them to participate.
Some of the statistics offered in the book suggest that family-based ministry plays a big role in cementing a young person's faith. Young adults who were involved in a family-based ministry as children are more likely to continue to serve the Lord into their adult lives.
"Powerful ministry flows out of families and can be used of God in some remarkable ways. This book is written by someone who was in family-based ministry, and offers practical solutions to Christian families and the churches they attend to encourage this unique kind of ministry so needed today," said Smith.
Craig Stephen Smith is an enrolled member and tribal elder in the White Earth Band of Ojibwe Indians. He is an author, speaker, and gospel singer who, for over four decades, has brought the hope of the gospel of Jesus Christ to people across North America and in over a dozen countries worldwide. He is also the author of: Whiteman's Gospel, Miracle at Mile Marker 313, and Indigenous Faith.
177 Pages
Xulon Press