---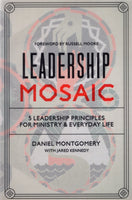 There's a leadership crisis in the church.
Every leadership model claims to have all the answers to the challenges of leadership. Each perspective emphasizes certain qualities, and we search desperately for answers in the absence of clear direction. But there's no simple leadership formula that meets every need we have in life and ministry.
Challenging the conventional wisdom about what makes for a good leader, Daniel Montgomery calls us to a countercultural perspective on leadership rooted in our Creator. He presents a new framework for leadership, not just a beckoning to further pragmatism, relentless productivity, or a reactionary cultural fad. He helps us see leadership as a mosaic of five characteristics—conviction, creativity, courage, collaboration, and contemplation—reflective of the very image of the triune God.
Armed with this perspective, we will be able to see, strive after, and celebrate the great and complex vision of leadership God has called us to—for the flourishing of our homes, churches, and workplaces.
256 page book
Crossway