---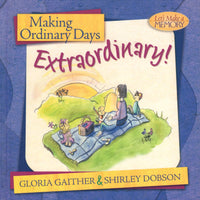 Modern families face increasing demands, from seemingly endless activities for kids to heavy requirements for working parents. More than ever, families need resources to strengthen their bonds with each other by creating and celebrating special memories. Complete with heartwarming vignettes from well-known Christian personalities, this charming book includes a wealth of creative memory-building activities. It's packed with potential for year-round fun!

Make these moments last!

It's the simple moments that knit you together as a family--shared experiences that keep you close over the years. But these special times won't just happen on their own, with today's kids and parents all going in separate directions.

Making Ordinary Days Extraordinary is packed with creative activities that will help your own family make meaningful, long-lasting memories. You'll find irresistible ideas such as film festivals, goofy golf, neighborhood circuses, instant parties, stealth love notes, ugly bug pageants, family websites, and pinata planets--along with fun twists on familiar pastimes. All you have to supply is a little of your time...and lots of love!

Story Behind the Book

Over 20 years ago, Let's Make a Memory was published in paperback and has become a classic now with over _ million copies sold. Now, Multnomah Publishers will repack and update this bestseller along with material from Hide it in Your Heart to create the Let's Make a Memory series. Making Ordinary Days Extraordinary will be the first book in this series with three additional titles to follow over the next two years. Gloria Gaither and Shirley Dobson share creative ways to spend time with families. This beautiful four-color book will give moms creative ideas and activities to share with their young ones especially during those summer months between school!
128 page book
Multnomah Gifts