---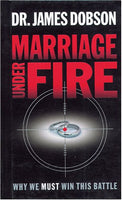 Sale
SPEAK NOW OR FOREVER HOLD YOUR PEACE
For the past forty years, the homosexual activist movement has sought to implement a master plan to utterly destroy the family. Unelectable and unaccountable rogue judges have made a habit of inventing rights that not only don't exist in the Constitution, but also contradict both the will of the people and the actions of the legislative branch.
Christians around the world have scrambled, wondering how to respond. How do we discuss this intelligently? What can we do to make our voices heard? In his newest release, Marriage Under Fire, Dr. Dobson addresses the dire ramifications of judicial activism and presents compelling arguments against the legalization of homosexual unions-mobilizing the Christian community to respond to a call to action.
Why Not "Gay Marriage"?
Why shouldn't the definition of family be broadened and modernized? What harm could be done by two consenting adults who love one another coming together to create a binding union?
In this succinct analysis of the issue, Dr. James Dobson presents a compelling case against the legalization of "marriage" between homosexuals and the dire ramifications our nation could face: Same-sex marriage will destroy the fundamental principles of marriage, parenthood, and gender. Families will be increasingly unstable as their definition expands to incorporate multiple "moms" or "dads". Legalization of gay marriages will lead to polygamy and other alternatives to one-man/one-woman unions. The divorce rate will be higher, making our children less safe.
Marriage Under Fire
provides the foundations of a battle plan for the preservation of traditional values in our nation. Our response could not be clearer. The well-being of the family, and thus our nation, hangs in the balance. Now is the time to speak out in defense of marriage and the American family.

123 pages
Multnomah