---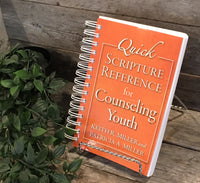 For counselors, pastors, youth pastors, and parents, this essential user-friendly reference has been thoroughly updated and revised to reflect the needs of teens in a rapidly changing world. Arranged topically for easy access to the Scriptures that speak to the heart of each issue teens face, this book covers a wide range of subjects. Among the more than 125 topics are

· abuse
· attitude
· bullies
· dating
· divorced parents
· Facebook and the Internet
· forgiving others
· jealousy
· materialism
· movies
· peer pressure
· rumors
· self-injury
· sexual purity
· sports
· suicide
· terrorism
· worry

In addition to the appropriate Scriptures, topics include a list of biblical narratives illustrating the topic, practical steps to take, and suggested resources. Pastors, parents, and counselors will quickly discover that this is an essential tool for helping teens blossom into strong Christian adults.
336 page book
Baker Books