---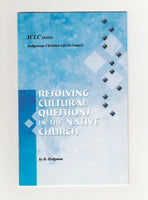 All Christians in every people group and every age ask questions about how to live in a way that pleases Christ in their given context. These are good questions to ask, since our goal is to figure out how to apply Scriptural principles to daily life.
Questions about how to apply timeless, universal Scriptural principles to present situations are hot topics in every church, in every age, and in every cultural context.
IN this booklet Denise explores the application of Scripture to ecclesiology and life through the challenges and hurdles that can exist in cross-cultural ministry.
15 Page Book
Indigenous Christian Life in Context