---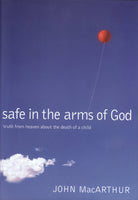 Every parent who has lost a child has dealt with disturbing, haunting questions. Why my child? Where is my baby now? Will I ever see my child again?
Renowned Bible expositor John MacArthur tackles the question of infant death (in the womb or following birth) in his trademark style-with detailed attention to Scriptures that hold the answers. No death occurs apart from the purposes of God, MacArthur assures readers, just as no life occurs apart from the purposes of God.
With a pastor's heart, he leads readers to an understanding of the eternal destination of these precious little ones. His conclusion: Babies-and anyone else who has not reached the condition of accountability-go to heaven when they die, and there will, indeed, be a time of blessed reunion with these souls.
This comforting book is certain to bring consolation to those experiencing this most painful loss.
192 page book
Thomas Nelson