---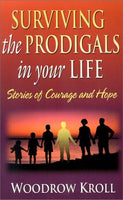 Sale
With insight and compassion, Surviving the Prodigals in Your Life takes readers to Jesus' parable of the prodigal son and guides them in turning their hurt to hope -- presenting an alternative to letting feelings of disappointment and rejection drive actions.But there are potentially two prodigals in every story and author and Bible teacher Woodrow Kroll clearly and pointedly shows how an individual may unknowingly be following the lifestyle of "the older brother" and also need a heart change.

Equally compelling are the real-life stories of six prodigals, each a moving account of how God worked in their lives drawing them and their loved ones to Himself.

Here are the keys to survival -- whether the prodigal is of the runaway or stay-at-home variety. Here also is a call back to the Father if you find yourself far from home.
185 pagesBack To The Bible Publishing