---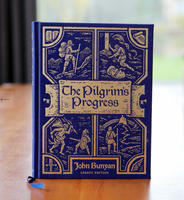 Many beautiful versions of John Bunyan's work have been produced over the past three centuries. Often these versions included wood-cut illustrations from some of the finest artists of the day, and yet many of those versions are out of print and few heirloom quality editions exist today. Our desire was to honor the rich legacy of illustrations of The Pilgrim's Progress with this new edition.
Some of the special features of the Legacy Edition include:
Unabridged text with carefully updated language

150+ vintage illustrations

Heirloom quality cloth cover, gilded edges, and ribbon page marker

Full ESV Bible references in margins

Large Print

Frameable 6.5x8.5" Pilgrim's Journey Matte Cardstock Map
Our hope is that, as this story has impacted generations of Christians, this edition will continue the legacy of this book for many generations to come.
Lithos Kids