---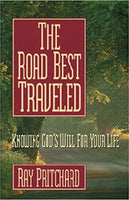 Sale
If you truly want to do God's will, you will do it. That is the bottom line of this practical book. If you seek to know God and make yourself fully available to Him, He'll direct you so that even your toughest decisions will honor Him.
Written in a popular, anecdotal style, "The Road Best Traveled offers a liberating, biblical framework for choosing wisely when you're at a crossroad. It explores: seven questions you should ask yourself before making a big decision how your spiritual gifts help you accomplish God's will the role suffering sometimes plays the explosive subject of supernatural signs four things to consider in the midst of the decision-making process ways to get back on track when you wander from God's will
By dispelling the common myths about God's guidance, avoiding the step-based approaches that usually come with them, and telling the truth according to God's Word, this book will free you from agonizing over every decision. It will help you step out in faith, believing that God will work through you to accomplish His will--even when you can't see beyond the next curve.
217 pagesCrossway Books