---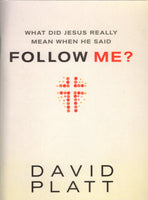 You may think you are a Christian—but are you sure? Jesus' call to follow him is more than an invitation to pray a prayer. It is a summons to lose your life and find new life and ultimate joy in him. In David Platt's book Follow Me: A Call to Die. A Call to Live he asks the question, "What did Jesus really mean when he said, 'Follow me'?" What if we really listened to Jesus' words and heard what he is saying? When people truly engage with Jesus' personal invitation to follow him, everything changes, for he is worthy of all our trust and affections.

What Did Jesus Really Mean When He Said Follow Me? builds on the message of Follow Me to motivate readers to experience our grand purpose: to exalt the glory of God by spreading Christ's gospel—to make disciples who are making disciples. This booklet is a great resource to share with others to discuss crucial faith questions in a personal and grace-filled manner and engage others to be disciple-makers in obedience to Jesus. Ideal for small groups or personal and mass evangelism.
64 page book
Tyndale House Publishers Inc.