---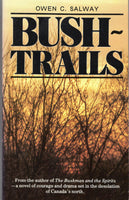 Hundreds of miles from middle-class comfort, Steven and Jennifer Lockwood struggle against the hostile forces of the north. They wonder if they made a mistake in coming. But it's too late go back.
Drawn by an uncommon compulsion to work and live with Canada's native people, the young couple braves loneliness, poverty and fear.
but they expected that. They knew from the first they were choosing to travel a rough trail.
So they have to stick with it - whatever it costs.
173 Pages
Horizon House Publishers