---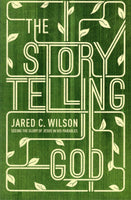 Throw away your flannelgraphs...
The prodigal son. The good Samaritan. The treasure hidden in a field. Most of us have heard Jesus's parables before. Yet if these stories strike us as merely sweet, heartwarming, or sentimental, we can be sure we've misread them. In The Storytelling God, pastor Jared Wilson helps us to see how Jesus's parables reveal profound spiritual truths about God, humanity, the world, and the future.
Discarding the notion that Christ's parables are nothing more than moralistic fables, this book highlights how each one is designed to drive us to Jesus in awe, need, faith, and worship.
187 Pages
Crossway